Mommy Athena is having a giveaway in line with her birthday and the birthday of her daughter. Happy Birthday to you and your her lovely daughter!!!
a href="http://athenatria.com">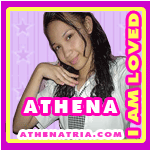 And thanks to her 3 generous sponsored:
The Rainbow Star
Grysh Co
Paul
Prizes at stake:
.com, .net, or .org domain for 1 year

month of "Pink" package of hosting from thepinkhost.info

4 different kinds of accessories from therainbowstar!

special prize from gryshco.com

special prize from Paul Eugenio (it may be a book, money or a phone!)
So if you wanna win this prizes, then start earning entries and get more chances of winning.
Just click this linky here-->>http://athenatria.com/double-birthday-giveaway<<--
Goodluck Fellas! =)
♥♥XOXO♥♥